In recent years, three charity shops arose independently in the city centre of Funchal. There is a different story behind each of these stores, but all of them have a lot in common. They were all created to help to reduce the economic difficulties of families and individuals, and they are doing it through reusing and recycling clothes, furniture, equipment and much more, adding value to things that would otherwise become useless waste.
Botão Solidário, a charity shop situated in Rua das Pretas, was opened in November 2016 by Sociohabitafunchal, E.M., a municipality-owned enterprise. The Municipality decided to open a charity store in the city centre as a response to a great demand of this kind of service. In addition to the charity shop, there is also Atelier de Costura, a space open to the local community that has a section dedicated to the rental of clothes and accessories for ceremonies and popular events such as weddings, baptisms, 1st communions, carnival, graduations etc. The first shop of this kind was opened by the same enterprise in 2013 in Santo António, one of Funchal's neighbourhoods with a large population of people struggling with socioeconomic problems.
Another important aim of these activities is to involve civil society and entrepreneurs in the donation and to promote sharing and solidarity among people. The reasons that led to the creation of these charity stores is described by the Municipality of Funchal, in its YouTube channel, with these words: "The project emerges as a social emergency response, considering the current economic situation of the country, and the serious social situation in which many families live. Given that the state cannot respond to all these problems, there has been a need to resort to resources belonging to civil society and private entities to alleviate the current socio-economic gap."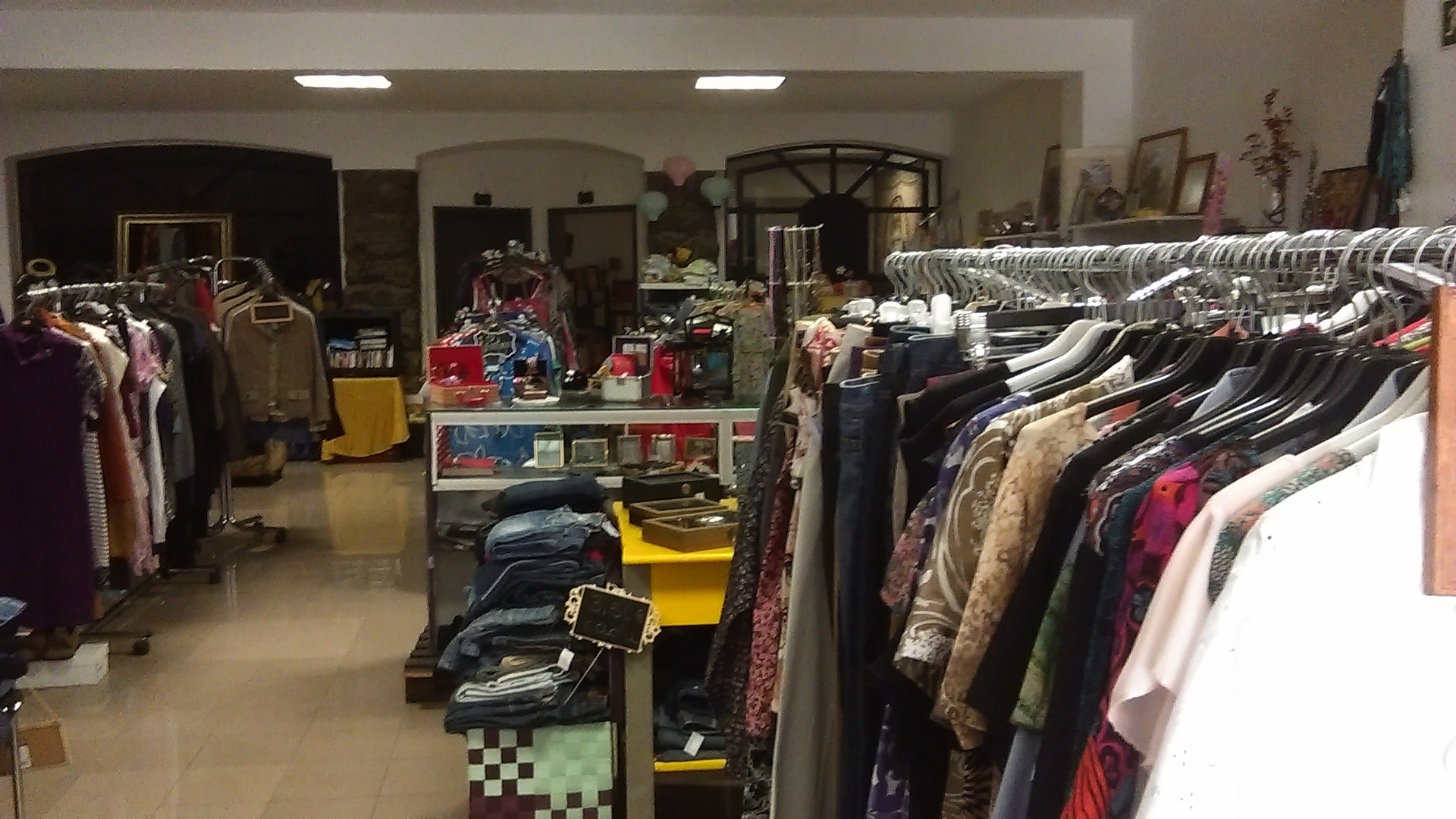 Just a few streets away, two other stores with similar aims are located. Cantinho das Oportunidades e Costura and Estimei – loja e atelier are just a short walk from each other, both run by local enthusiasts. They reuse second-hand materials to recreate clothes, equipment and furniture, and to resell the "new" objects for very reasonable prices or donating them to the needy. In this way, they are spreading environmental awareness and the values of thrift and solidarity.
Cantinho das Oportunidades e Costura alters and repairs second-hand clothes reselling them for low price or donating them to the needy.
Estimei – loja e atelier runs an atelier where old furniture, clothes and other stuff can be repaired. This project seeks to improve the quality of life of the unemployed and the elderly by engaging them in the project's activities.
In the shop, there is also a book corner used for the exchange of textbooks and other books, to support young people and encourage them to read and learn.
Info and contacts
Botão Solidário
Rua das Pretas n. 55, Funchal
Open from Monday to Friday from 9h00 to12h30 and from 14h00 to17h30.
Cantinho das Oportunidades e Costura
Rua do Surdo, n. 23, Funchal
Estimei – loja e atelier
Rua dos Ferreiros, n. 141, Funchal
Open from Monday to Friday from 10h00 to 19:00 and Saturday from 10:00 to 15:00.