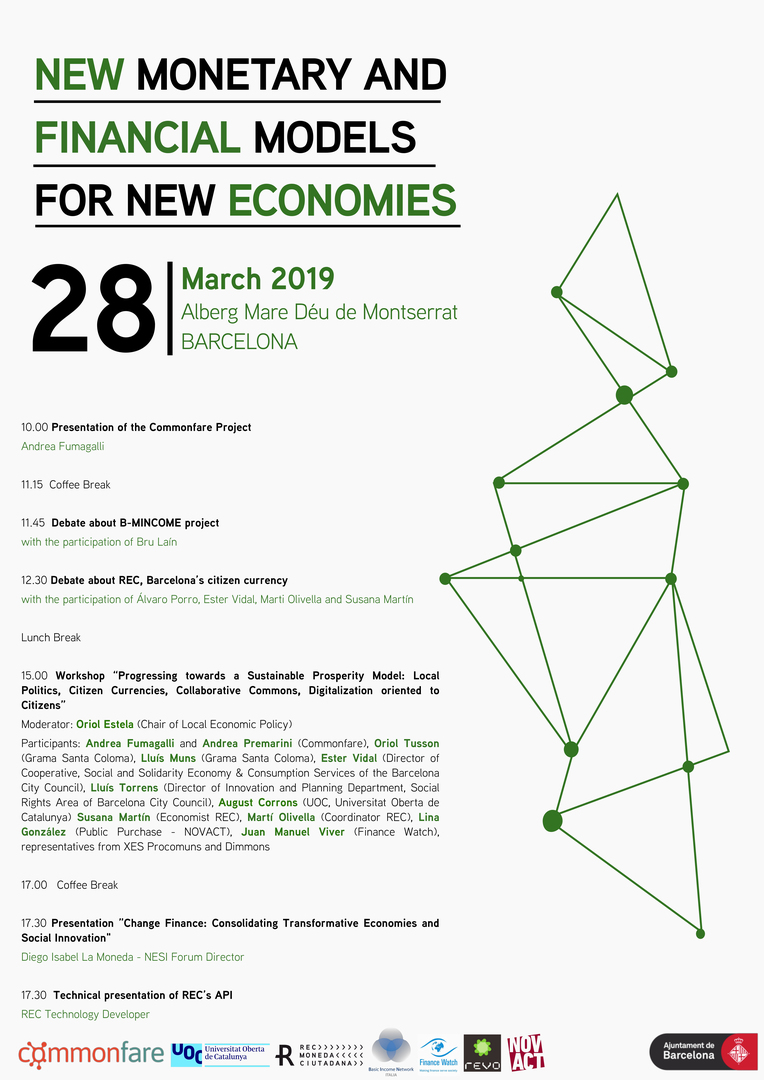 Il 28 marzo a Barcellona si terrà una presentazione pubblica del progetto europeo Commonfare a cura di BIN Italia, partner italiano della ricerca. L'incontro è organizzato in collaborazione con l'Associazione Novact e l'Universitat Oberta de Catalunia, e con il patrocinio del Comune di Barcellona. Sarà occasione per discutere di nuovi sistemi di welfare, dello strumento del reddito di base e di monete complementari, a partire dall'esempio del Rec (Real Economy Currency) la valuta sociale che si sta sperimentando nella città catalana. Il Rec è un sistema di scambio di cittadini complementare all'euro, che consente transazioni in una comunità tra individui, istituzioni e imprese che lo accettano. All'incontro prenderà parte anche il commoner la cui storia è risultata la più aderente alla call che abbiamo lanciato su commonfare.net qualche settimana fa. Let's go Commonfare!
PROGRAMMA
NEW MONETARY AND FINANCIAL MODELS FOR NEW ECONOMIES
Alberg Mare Déu de Montserrat
BARCELONA, 28 March 2019
10.00 Presentation of the Commonfare Project
Andrea Fumagalli
11.15 Cofee Break
1.45 Debate about B-MINCOME project
with the participation of Bru Laín
12.30 Debate about REC, Barcelona's citizen currency
with the participation of Álvaro Porro, Ester Vidal, Marti Olivella and Susana Martín
Lunch Break
15.00 Workshop "Progressing towards a Sustainable Prosperity Model: Local Politics, Citizen Currencies, Collaborative Commons, Digitalization oriented to Citizens"
Moderator: Oriol Estela (Chair of Local Economic Policy)
Participants: Andrea Fumagalli and Andrea Premarini (Commonfare), Oriol Tusson (Grama Santa Coloma), Lluís Muns (Grama Santa Coloma), Ester Vidal (Director of Cooperative, Social and Solidarity Economy & Consumption Services of the Barcelona City Council), Lluís Torrens (Director of Innovation and Planning Department, Social Rights Area of Barcelona City Council), August Corrons (UOC, Universitat Oberta de Catalunya) Susana Martín (Economist REC), Martí Olivella (Coordinator REC), Lina González (Public Purchase - NOVACT), Juan Manuel Viver (Finance Watch), representatives from XES Procomuns and Dimmons
17.00 Cofee Break
17.30 Presentation "Change Finance: Consolidating Transformative Economies and Social Innovation"
Diego Isabel La Moneda - NESI Forum Director
17.30 Technical presentation of REC's API REC Technology Developer
Qui i link al programma
Spanish https://rec.barcelona/es/2019/03/11/jornada-28-marzo/
English https://rec.barcelona/es/2019/03/11/jornada-28-marzo/
Catalan https://rec.barcelona/2019/03/11/jornada-28-de-marc/