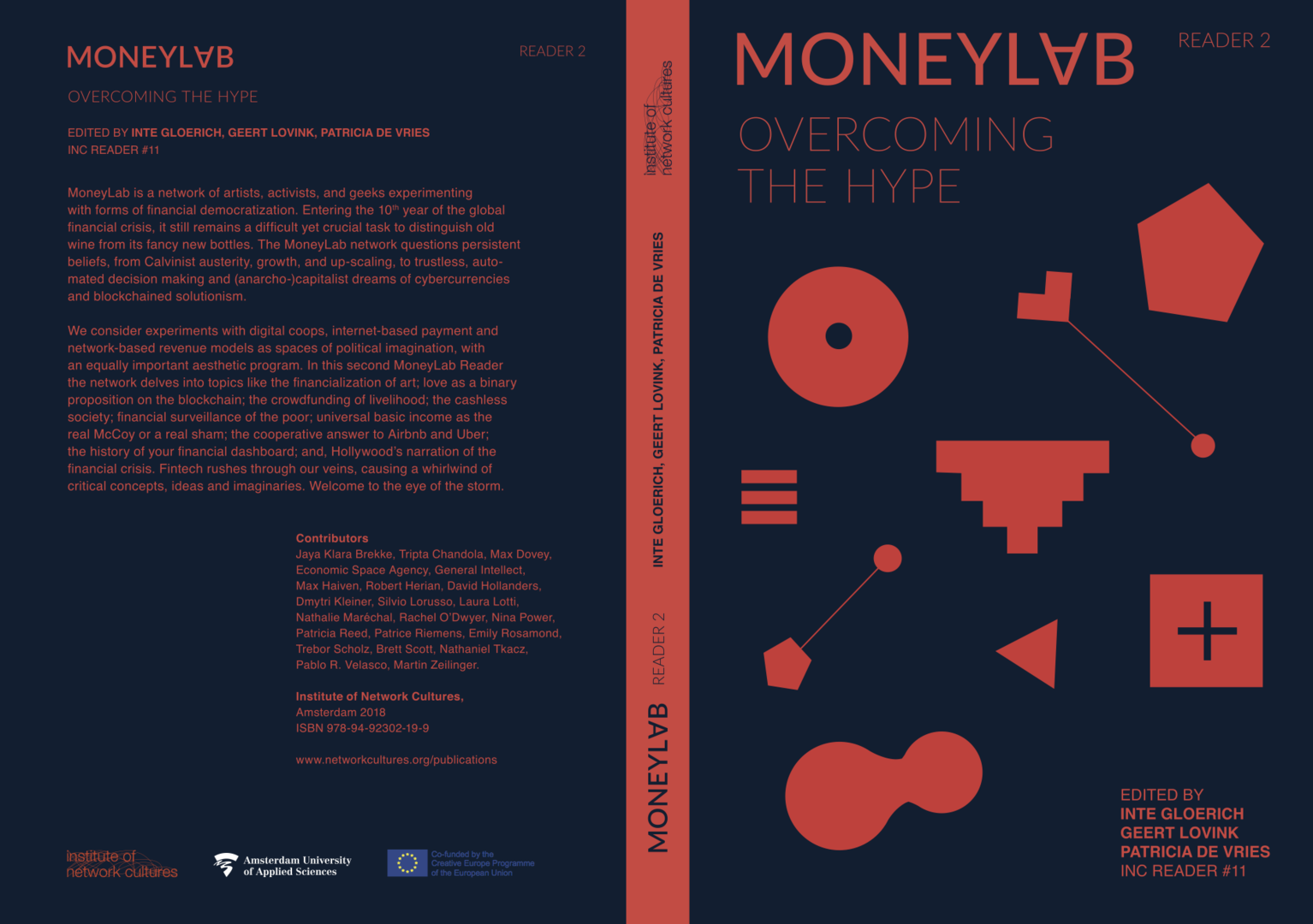 The 2nd volume of MoneyLabReader, edited by the Institute of Net Cultures in Amsterdam, under the supervision of Inge Gloerich, Geert Lovink and Patricia De Vries, was presented at the Somerset House in London, on the 20th of January, 2018. The program can be found
here
.
At the event, the Manifesto for the "Commonfare or the welfare of the Commonwealth" was presented for the first time ever. The Manifesto was authored by the General Intellect collective (pp. 243-252). The collective includes (among others) researchers from
Bin-Italia
(Andrea Fumagalli and Cristina Morini) and
Dyne.org
(Marco Sachy) who work on the project
Commonfare.net
.

The idea of ​​writing the Manifesto for the Commonfare was born on June 23, 2017 in Amsterdam during a public presentation by the project Commonfare.net. The conference was organised in the cultural space of the Waag and featured presentations by Geert Lovink, Aspasia Beneti, Jaromil Denis Roio, Andrea Fumagalli, Daniela Paes Leão , Marco Sachy, Merel Willemsen and others.

The objective was to present in a simple and convincing way the need for a new type of social welfare, one which is able to respond to the challenges arising from the increasing precariousness of labor, the dismantling of some basic social services, and income insecurity. How can we imagine a welfare of the commonwealth able to foster cooperation and solidarity without being subject to the budget constraints imposed by the austerity policies of contemporary Europe? To answer this question, we need to think about the construction of new forms of financing including alternative monetary circuits and alternative forms of self-organisation of bottom-up welfare experiments. This is the challenge we address in the Commonfare.net project. Join us!
Here follows the conclusion of the Manifesto:

"Commonfare intends to overcome the imperative of contemporary pessimism, connected with the current processes of impoverishment and proletarianization of the general intellect, by creating new visions for social welfare. Its aim is to develop concrete forms of micro-politics able to valorize presence and the capacities of different talents, as well as the richness of human exchanges. It should also be able to adapt production, at least partially, to the needs and desires of the community. The metropolitan and social spaces, the relations between individuals and communities, the engines of valorization and the means of production are already directly in our hands, bodies and minds.
To get out of our paralysis, we can already map out an infinity of realities that build "commonwealth", social cooperation, self-production, inventions on the ground of social reproduction and inclusive exoduses. Such mapping is to begin to imagine the contours of a desirable society".


Download the 2nd volume of MoneyLabReader
HERE
(with the Manifesto, pp. 243-251)