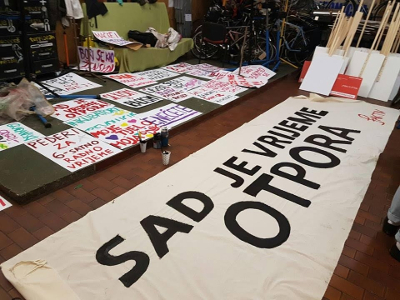 Ove se godine održava četvrti Noćni marš za 8. mart u Zagrebu! Uz Zagreb, akcije za obilježavanje tog dana održat će se u Rijeci i Splitu.
Tim povodom feministički kolektiv fAKTIV poziva sve aktiviste i aktivistkinje da i svoje mjesto učine mjestom otpora! Noćni marš osmišljen je kako bi zajedničkim angažmanom obranile stečena prava te feministički i solidarno nastavile borbu. Trenutno je važnije no ikad pružiti artikulirani otpor i poslati snažne i borbene poruke te je važno da to učinimo u što više mjesta i gradova. Stoga fAKTIV poziva sve koji/e mogu i žele da se uključe u otpor organizacijom javne akcije, marša ili bilo kakvog obilježavanja koji je primjeren kapacitetima koje imate na raspolaganju.
"Udružite se, razmotrite koje su vam opcije na raspolaganju, razmislite koji su to problemi vezani za zaštitu prava žena na koje treba ukazati i – krenite u akciju! Ako već imate iskustva u organiziranju sličnih akcija, prenesite znanje na druge i potaknite ih na zajednički otpor.", poručuje fAKTIV za VoxFeminae.
Za sve savjete i pomoć oko organizacije možete se javiti na e-mail feministicki.kolektiv.faktiv@gmail.com.
A kako bi ovogodišnji Noćni marš u Zagrebu bio još veći od prethodnih, fAKTIV vas poziva na donatorsku večer koja će se održati 15. veljače u Spunku. Pomozite pokriti troškove organizacije najvećeg prosvjeda za prava žena u Hrvatskoj!