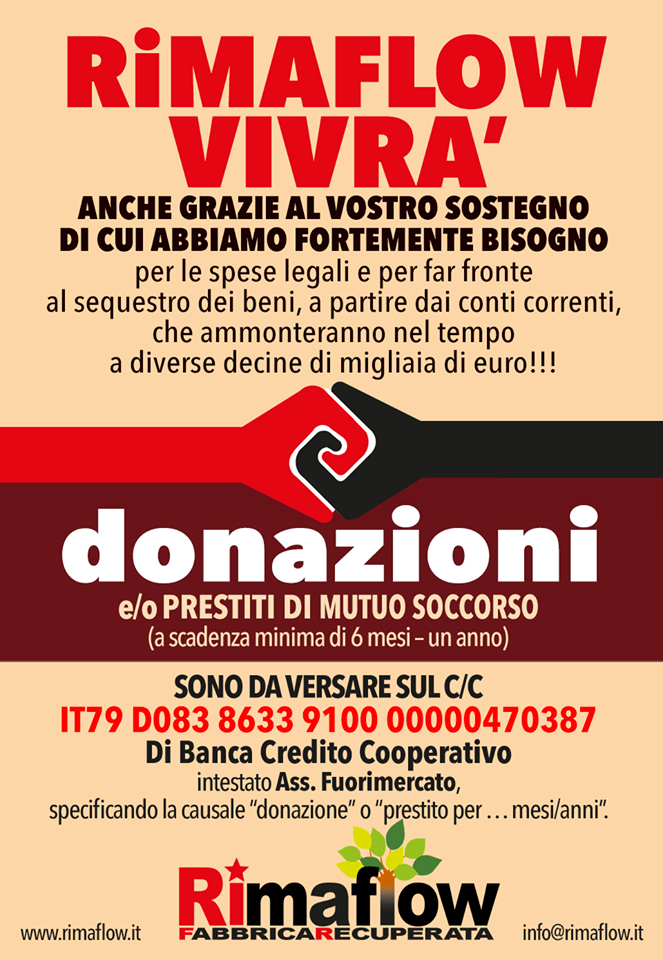 Ri-Maflow is a recovered factory located in Trezzano sul Naviglio, near Milan, Italy. Today, it employs around 80 people who are engaged in various work and recreational activities. In Ri-Maflow there are 35 artisan shops, representing a virtuous example of a self-organized working community that reacts to dismissal and delocalization. While enhancing skills, it also provide opportunities to fight impoverishment and precariousness, contributing to urban regeneration through the provision of services for the community. After the factory shut down was sold to a Polish company (an example of Italian economic decline) that never restarted production and instead, kept the plant closed. It was at this point that the workers at risk of dismissal decided to occupy it. In Ri-Maflow they found a space to rebuild their future without neglecting an important aspect: solidarity. Among various activities carried out in via Boccaccio (Trezzano), Ri-Maflow also collaborates with Libera (an anti-Mafia association), supports 0 km food products, and produces the herbal liqueur "The Partisan". In short, Ri-Maflow represents an attempt to create a sharing economy able to break the "free market" hierarchical framework based exclusively on profit.
For this reason, the history of Ri-Maflow has often been seen as an example to be followed, frequently being the subject of analysis, documentaries and surveys. Even the researchers of the European project Commonfare.net/PieNews have considered
this experience
not only extremely interesting, but an example of good practice with respect to bottom up welfare practices in Italy. These
bottom-up socially innovative practices
are based on grass-roots activism, responsibility and subsidiarity in the field of labour, living, education, healthcare, and culture. For more information or to read the full results of the inquiry, see the book
Generazioni Precarie
(Common Book Series).
Among other activities, Ri-Maflow has also operated in the wallpaper recycling sector, precisely to contrast the growing mafia power in this sector. On July 27th, 2018, an investigation by Milan prosecutors led to the seizure of six waste recycling companies and to the arrest of nine people, including Massimo Lettieri, President of the Ri-Maflow Ccooperative, and the seizure of the shed used for the wallpaper recycling activity within Ri-Maflow. They are accused of illicit waste disposal.

Declarations of solidarity sprang up both at national and international levels, from Rete dei Numeri Pari (a network of associations, including Libera, promoting basic income proposal and welfare activities) to Fiom-Cgil (the most important Italian metalworkers trade union).
Solidarity towards Ri-Maflow workers was also expressed at the local level by don Massimo Mapelli from Caritas Milano, don Franco Colombini - parish priest of Trezzano, Marco Cabassi (a well-known building contractor who has always been sensitive to social issues), and don Gino Rigoldi (founder of "
Comunità Nuova
") who have been following and actively supporting the Ri-Maflow project for years.
Just to underline the absurdity of this accusation, it is worth mentioning that Ri-Maflow is currently engaged in
a project of the Polytechnic of Milan and Penitentiary Administration
in collaboration with the Group of Transgression. RiMaflow's craftsmen took part in building a meeting structure for inmates and their families that will be inaugurated next October in the garden of the Bollate prison, just North of Milan.
"Obtaining raw materials from wallpaper was an experiment we suspended a few months ago" - stated Luca Federici, responsible for communication within Ri-Maflow - "On balance, - he continues - it proved to be particularly onerous and caused us a loss, other than earnings. To dispose of it correctly, we separated cellulose from PVC. Then, we delivered the materials to our clients. Everything was accompanied by transport documents and invoices issued to the companies for which we carried out the work and to which we delivered it. We know nothing about the next procedure of these materials". Furthermore: for this particular manufacturing activity, which the cooperative considered the possible keystone activity of Ri-Maflow and an opportunity that could guarantee a salaries to the worker-members, Ri-Maflow had involved several official authorities. "Our projects have been carried out with maximum transparency," - Luca continues, - "and we have repeatedly invited many institutions including the Metropolitan City, Amsa and A2A to inspect this industrial building. We also asked the Politecnico of Milan for assistance with patenting the machinery."

As a consortium, Pie News / Commonfare cannot enter into the merits of the matter and we leave the floor to those directly involved. However, we would like to emphasize the importance of the Ri-Maflow project, as it is able to empower social cooperation, relationships, and participation.