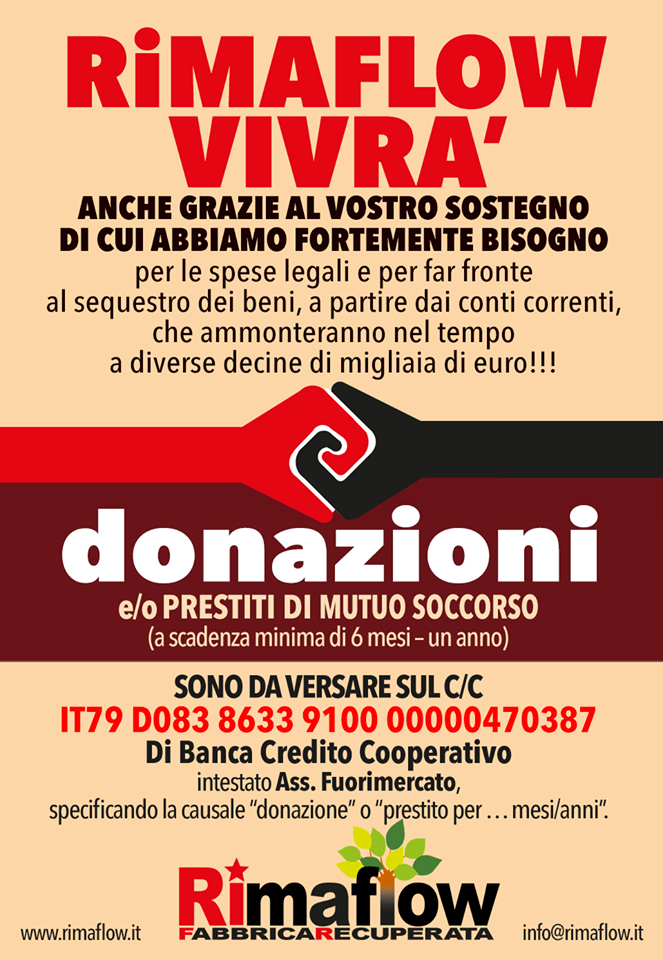 Ri-Maflow è una fabbrica recuperata che si trova a Trezzano sul Naviglio, nei pressi di Milano. Al suo interno hanno preso vita 35 botteghe artigiane e svariate attività lavorative e ricreative che impiegano oggi circa 80 persone. Un esempio virtuoso di comunità operaia che reagisce al licenziamento e alla delocalizzazione autorganizzandosi. Valorizzando competenze e desideri, si sono combattuti impoverimento e precarietà, contribuendo alla rigenerazione urbana e ai servizi per il territorio circostante. Operai, artigiani, precari hanno trovato in questo stabilimento, chiuso dopo la vendita a una società polacca e destinato a diventare uno delle tante carcasse vuote che testimoniano il declino economico italiano, lo spazio per ricostruirsi un futuro lavorativo e lo hanno fatto senza trascurare un aspetto importante: la
solidarietà.
Tra le varie attività svolte in via Boccaccio c'è anche la collaborazione con l'associazione Libera, la valorizzazione della filiera alimentare a km 0, la realizzazione dell'amaro partigiano. Insomma, il tentativo è quello di creare un'economia solidale, capace di infrangere gli schemi del "libero mercato" basato esclusivamente sul profitto.
Per tale motivo la storia di Ri-Maflow è stata spesso presa ad esempio, diventando anche oggetto di analisi, documentari e inchieste. Anche i ricercatori del progetto europeo Commonfare.net/PieNews hanno ritenuto estremamente interessante
questa esperienza
e l'hanno ricompresa tra le
buone pratiche di welfare bottom up
, da segnalare tra Milano e Roma. Si tratta di pratiche socialmente innovative, generate dal basso, fondate su attivismo civico, responsabilità e sussidiarietà che si sviluppano nel campo del lavoro, dell'abitare, dell'educazione, della sanità, della cultura. Nel libro
Generazione Precarie
(Common Book Series) è possibile leggere i risultati dell'inchiesta effettuata in luogo.
Tra le altre attività, Ri-Maflow ha operato anche nel settore del riciclo della carta da parati, proprio per contrastare il crescente potere mafioso nel settore. Il 27 luglio, un'inchiesta della procura di Milano ha portato al sequestro di sei imprese dedicate al riciclaggio dei rifiuti e all'arresto di nove persone, tra i quali Massimo Lettieri, presidente della cooperativa Ri-Maflow e al sequestro di un capannone della stessa Ri-Maflow. L'accusa è di trattamento illecito dei rifiuti.
Immediati gli attestati di solidarietà, sia a livello nazionale che internazionale, dalla Rete dei Numeri Pari (una rete di associazioni, inclusa Libera, che promuoveva le proposte di reddito di base e attività assistenziali) alla Fiom-Cgil (il più importante sindacato metalmeccanico).


La solidarietà verso i lavoratori di Ri-Maflow è stata espressa anche a livello locale da don Massimo Mapelli di Caritas Milano, da don Franco Colombini parroco di Trezzano, da Marco Cabassi (imprenditore edile sensibile ai temi sociali, ben noto a Milano) e don Gino Rigoldi (fondatore di "Comunità Nuova") che da anni segue e sostiene attivamente il progetto RiMaflow
Proprio per sottolineare l'assurdità di questa accusa, Ri-Maflow è attualmente impegnata in un
progetto del Politecnico di Milano e dell'Amministrazione Penitenziaria
con la collaborazione del Gruppo di Trasgressione. RiMaflow ha partecipato con i suoi artigiani alla costruzione di una struttura di incontro per i detenuti e le loro famiglie che verrà inaugurata il prossimo ottobre nel giardino della prigione di Bollate, a nord di Milano.
"Ricavare materia prima dalla carta da parati è stata una sperimentazione sospesa qualche mese fa" – dichiara Luca Federici, responsabile comunicazione di Ri-Maflow – "A conti fatti, si è rivelata particolarmente onerosa e ci ha provocato una perdita, altro che guadagni. Per smaltirla correttamente separavamo la cellulosa dal PVC. Poi consegnavamo i materiali ai nostri committenti. Tutto è corredato da documenti di trasporto e dalle fatture emesse verso le aziende per cui effettuavamo il lavoro e a cui lo consegnavamo. Non sappiamo nulla dell'iter successivo di questi materiali". Non solo: per questa attività manifatturiera che la cooperativa di lavoro considerava la possibile chiave di volta, un filone che poteva garantire un salario e un lavoro ai soci-lavoratori, Ri-Maflow aveva coinvolto diverse autorità. "I nostri progetti li abbiamo portati avanti nella massima trasparenza – prosegue Luca – e proprio in questo capannone abbiamo invitato a più riprese molti enti tra cui Città Metropolitana, Amsa e A2A a un sopralluogo. Abbiamo chiesto aiuto anche al Politecnico di Milano: volevamo brevettare il macchinario».


Solidarietà verso i lavoratori di Ri-Maflow è stata espressa da don Massimo Mapelli di Caritas Milano, da don Franco Colombini parroco di Trezzano, da Marco Cabassi e don Gino Rigoldi che da anni seguono e sostengono attivamente il progetto RiMaflow.


Come consorzio Pie News / Commonfare non possiamo entrare nel merito della vicenda e lasciamo la parola ai diretti interessati, tuttavia vogliamo sottolineare quanto sia importante un progetto come quello di Ri-Maflow che sollecita la potenza sociale della cooperazione, delle relazioni, della partecipazione. Inoltre, abbiamo visitato la fabbrica il 28 marzo 2018. Questo è il report, dopo la nostra visita.


The first of the meetings scheduled during the DW4 in Milan was in Ri-Maflow, a recovered factory located in Trezzano sul Naviglio, in the southern outskirts of Milan. The factory was shut down in 2009 after a long dispute that ended with a process of delocalisation of production in Poland. In 2013, it was then occupied by the dismissed workers, as well as precarious workers, and craftsmen living in that area. The factory has been completely restored, secured (before it had some safety problems), and reconverted according to the inspirations deriving from workers' skills and desires. During the tour of the factory, Luca and Gigi explained that all the worker-members self-manage directly Ri-Maflow through assemblies. All decision regarding initiatives to be undertaken, new entries and activities proposed are examined in the assembly, which is held fortnightly. The new forms of "collaborative economy" that have been independently started up in the factory, which had been emptied after the shutdown, give employment to about 100 people. In the three buildings of the former industrial complex there are today a cafeteria, a bar, an organic market (through the network of Fuorimercato, ethical purchasing groups and Genuino Clandestino), 35 artisan workshops (furniture restoration, carpentry, bike repair, jewellery creation), a computer repair centre providing repair and maintenance services for PCs, mobile phones and other electronic household devices, a caravans and campers storage space, and a paper recycling depot where plastic-coated wallpaper is put into a spinning drum for separating paper fibres from plastic in order to recycle paper and process cellulose. All these activities are carried out with low investment capital as they use second-hand machinery.
Ri-Maflow draws inspiration from the experience of the recovered factories in Argentina described in the 2004 documentary The Take by Naomi Klein and Avi Lewis. Social solidarity and community-based activism that developed around this experience played a very important role in the recovery and production start-up of this factory. A portion of the revenue earned from the various activities carried out is reinvested in the purchase of equipment and machinery on the basis of collective decision making. According to worker-members, the value of Ri-Maflow consists of:
- the physical spaces where new forms of common production can be developed;
- workers' skills and knowledge;
- work and time that is spent in favour of the territorial community;
- solidarity and cooperation that develop thanks to this new spatial and productive dimension.
The delegation of the consortium of PIE News Commonfare project illustrated the new release of the Commonfare.net platform. Ri-Maflow showed interest in the possible use of the platform as an internal and external communication tool. The theme of digital currency also raised attention as a useful tool for exchanges within Ri-maflow (for instance, for paying for meals in the cafeteria).
The main interactions emerged in terms of usability and sustainability concern:
- the use of the information section (welfare cards) as it can support and facilitate the tax help desk that is already operational and available to workers, pensioners and citizens. The workers providing this service could interact with this section of the platform and even update it with municipal welfare measures (when available). The information section represents an element of interest and potential sustainability, for it is capable of simplifying and maximising this ongoing activity;
- the use of the 'Stories' section as it can support, network and let people know about the many stories related to the activities carried out in Ri-Maflow;
- the use of the R3 features has also been investigated as a useful support to build a transparent channel of internal communication and to feed a circular and collaborative economy (food, workshops, services).
An exchange between the Commonfare project and Ri-Maflow could acquire political value because, as underlined during the meeting, they both have in common the search for new democratic self-management practices.
It is because of this that we all agreed to meet again as soon as the new version is online in order to present it to the workers' assembly.